Scalp Stimulating Brush
Regular price

Sale price

£23.99
Use this brush to help cleanse and exfoliate the scalp to enhance the impact of DENSE® topical hair growth treatments. It cleanses the buildup of dry skin and boosts blood flow for an all-around healthier scalp.
Suitable for
Get My Plan
Share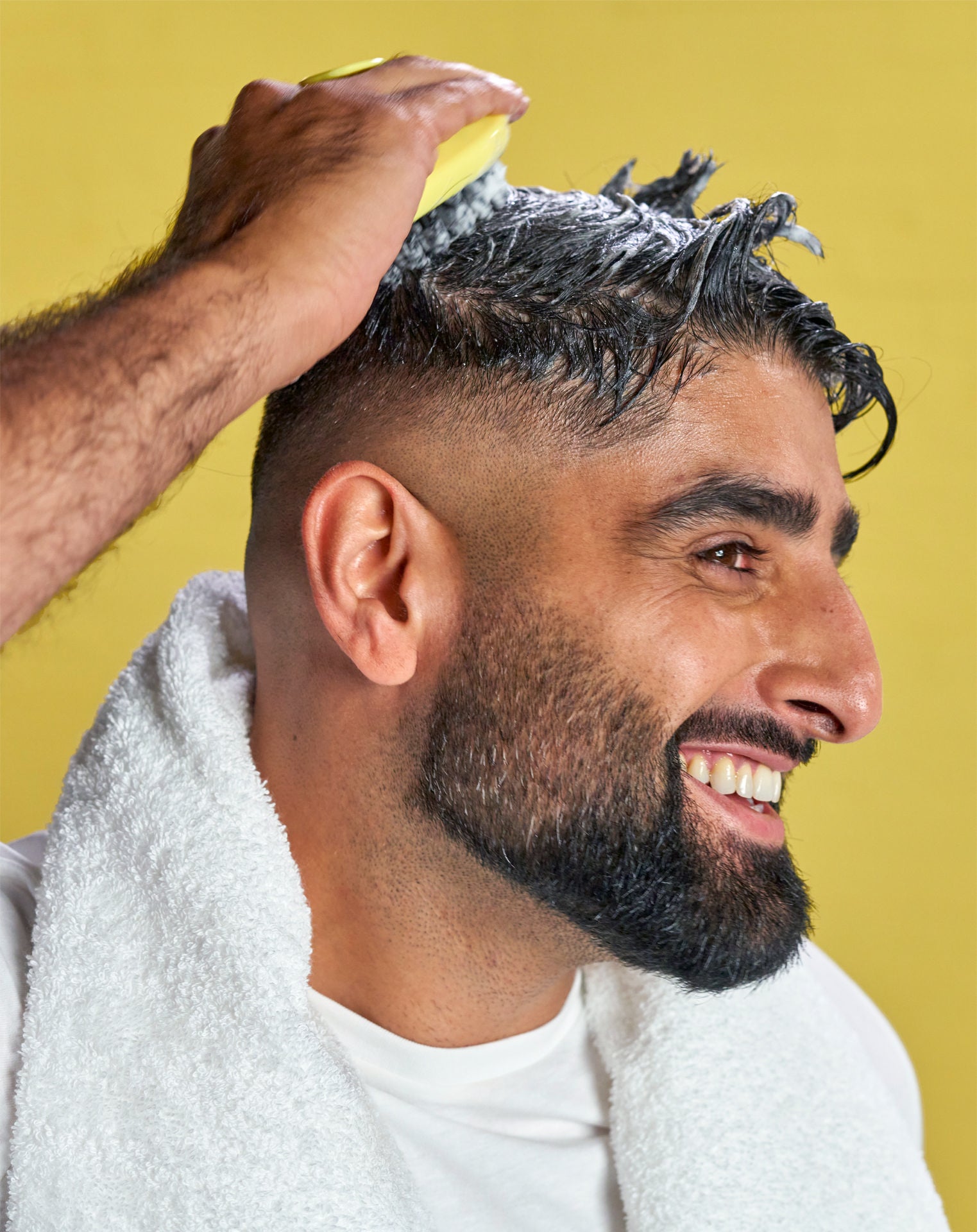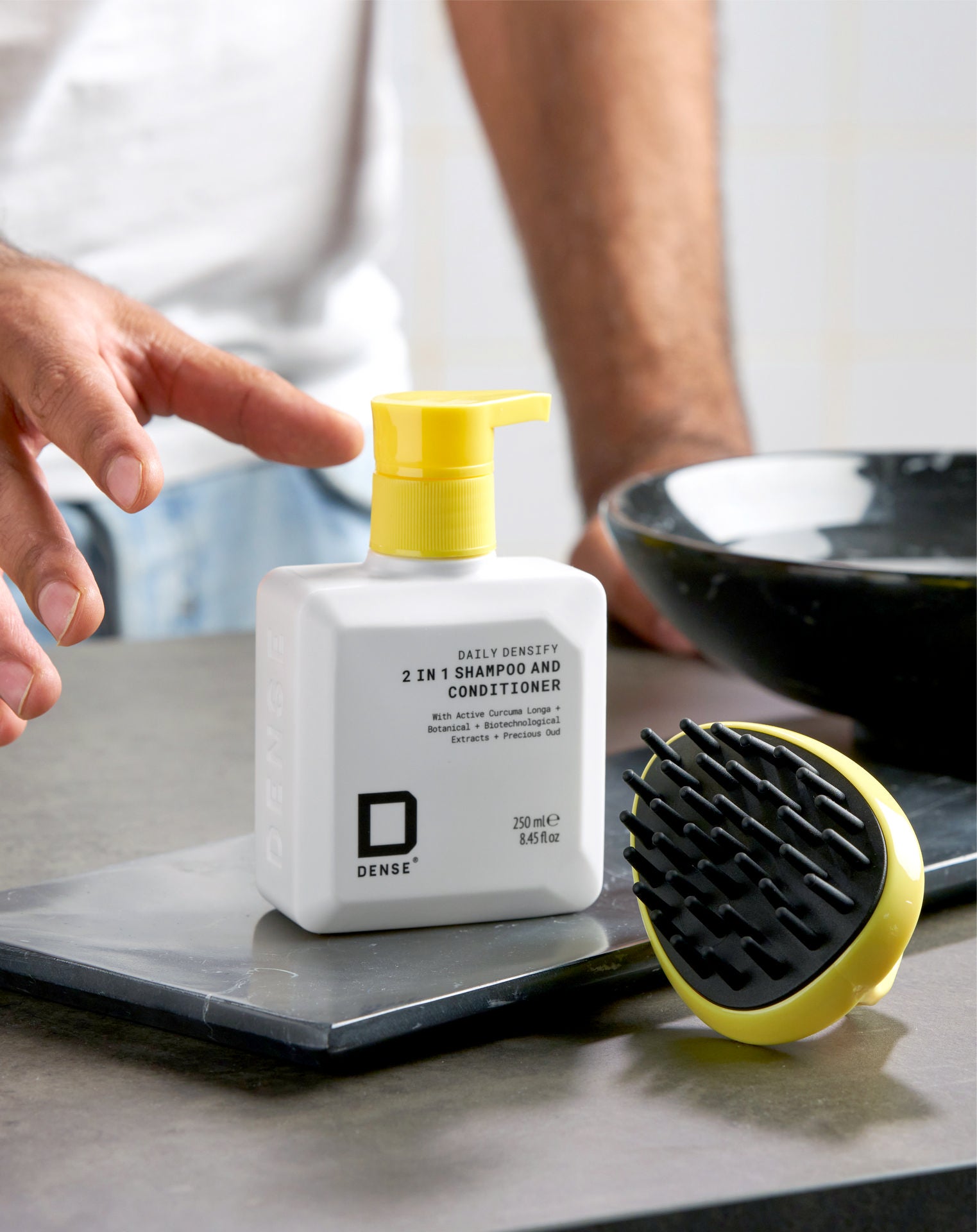 Need to know
Stimulates growth

Any Hair Type

Removes Dead Skin

Improves Blood Flow to the Scalp

Anti dandruff
Ask The Doc
Scalp Stimulating Brush
How does it work?

It's simple yet highly effective and a must-have for every bathroom. When a stimulating brush is used on the scalp…

Stimulate blood flow
It activates capillary beds which will stimulate blood flow. The flexible bristles are gentle and more forgiving than standard combs which can be damaging to hair.

Relaxes the scalp
It relaxes scalp muscles by stimulating the parasympathetic nervous systems which also allows the dilation of capillary blood vessels, therefore boosting blood flow. Improved blood flow equals healthier hair.

Reduces dry skin and excess sebum
It eliminates scalp buildup of organic and inorganic residues that accumulate on the scalp over time aka dandruff. This build-up trickles down into the hair follicles and can clog them. The clogged hair follicles inhibit the effectiveness of topical hair treatments and are also unable to receive proper blood flow under the skin and eventually shrink, thus producing short, weak hair. The buildup of dead skin flakes and excess sebum on the scalp provides an environment which can encourage scalp infections or irritation.

Stretching force
It can cause a stretching force on hair cells which stimulates follicles to produce thicker denser hair. According to studies it was found regular scalp massages lead to thicker hair.


What's inside it?

Our handheld device is made of flexible silicone bristles and a plastic handle.

How do I use it?

Easy as…

1. Wet hair and lather in DENSE® Daily Densify 2-in-1 shampoo and conditioner.

2. Using the DENSE® Scalp stimulating brush gently massage the scalp working the shampoo into the scalp and hair with medium pressure for 2-4 minutes.

3. Rinse your hair to remove the shampoo.

4. Wash the scalp stimulating brush and keep it in a dry place. Replace when needed.


When Will I See Results?

For best results use in conjunction with DENSE® Daily Densify 2-in-1 shampoo and conditioner in your daily shower. Patience is key. Some patients have seen some incredible hair gains by just using the shampoo alone, but for best results combine it with our prescription range and Scalp Stimulating Brush. Watch our video here to find the best way to use our product.

Is it right for me?

We're all about science, so if you want to read more about why using a scalp brush is effective in stimulating hair growth, here are some excellent links to read up on. If you have experienced rapid thinning hair please fill in our consultation and speak to your doctor before trying our accelerator products.

What If It Doesn't Work

Is this product prescription only?

Can I still style my hair after using the products?

Will it make my hair greasy?

Are there any side effects?
REAL SCIENCE = REAL RESULTS
Don't just take our word for it - our Dense members have seen epic results with our scientifically backed treatments - check out our reviews and see for yourself.
MEDICAL EXPERTS AT THE CORE
We work closely with a team of medical experts and pharmacists that dispense your treatments. We're always at hand to guide you through your growth plan.
Take consultation